Utah's Tragic Circleville Massacre
April 21, 1866
by Author Phillip B Gottfredson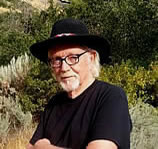 Introduction
April 21, 1866 Circleville, Utah, during the Utah Black Hawk War 24 Paiute men women and children innocent of any wrong doing, were brutally murdered, their throats cut one by one then buried in a mass grave to be forgotten. Three children made their escape only to be captured the next day. This was one of the worst tragedies in Utah's history.
"I devoted some six years researching the Circleville Masssacre. I owe much to my late friend Norma Vance of Payson, Utah. Norma was a direct descendant of the only known survivor of the Circleville tragedy and spent considerable time with me sharing a pile of documents she had on the event. Thank you Norma, you will always in my heart."
In this essay Mr. Gottfredson gives a brief synopsis of the massacre. His complete detailed account can be found in his book BLACK HAWK'S MISSION OF PEACE.
The Circleville Massacre
By 1866 Mormon and Indian confrontations were raging in all directions, it was ordered by LDS church officials to have the Paiutes disarmed. Timpanogos War Chief Black Hawk and his band had killed many during the year before while defending their rights to their land. A determined camp of Paiutes remained in Circle Valley (Box Creek - now Circleville) and were trying to be friendly and get along with the whites. However, the whites felt that they were in danger every moment, as reports of Natives in other places were so aggressive saints felt that real trouble could break out at anytime.
On April 21, 1866, an express from Fort Sanford reached Circleville, Utah telling of a Paiute that pretended to be friendly had shot and killed a white man who belonged to the militia stationed at the nearby fort. The people of Circleville were told to protect themselves against the Indians who were camped in their valley. Though residents in Circleville had no cause for concern with their neighbors whom they had befriended, upon receipt of this information the people of Circleville called a town meeting, and after much discussion as to what they should do, it was decided that they should arrest all the Paiutes that were camped nearby, and bring them to Circleville for confinement.
Every able bodied man in the town set out to take custody of the Indian camp, and they surround the camp at night. They had no reason to use force, relations between them had been amiable. However, James T. S. and Bishop William Jackson Allred went to the Indian camp, and under false pretences persuaded the Indians to come to a meeting at Circleville. They told the Indians that they had received a letter from Brigham Young, and they wanted to have it read to them. All of the Indians agreed willingly to go to Circleville with the men, *except one young Indian warrior who refused to go and began to shoot at the posse. The posse returned fire killing on the young man. The rest of the Indians were then taken at gun point to Circleville, a mile away, and the letter was read to them. The Indians were told that they are to be retained as prisoners, and were taken into custody and placed in the meeting house that night under guard.
It should be noted that on January 31, 1850, Lieutenant General Daniel H. Wells of the all Mormon Nauvoo Legion sent orders to Captain George D. Grant to "exterminate the Timpanogos," known as "Special Order No. 2". Isaac Higbee was the bishop of Fort Utah and he met with the First Presidency and the Quorum of the Twelve Apostles at the Fort when they agreed that the only way to keep Fort Utah would be to exterminate the Timpanogos. Source: Utah State Archives, State Capitol, Salt Lake City, Utah Territorial Militia Correspondence, 1849-1863, ST-27, Microfilm reel 1, Document No. 5. Eugene E. Campbell. Establishing Zion (See Fort Utah for details)
The Oluf Larsen Account
Now, Oluf Larsen gives a slightly different account, and Oluf was one of the guards who participated in the killings. He said: "We naturally concluded the Indians were planning something. This led us to call a council to consider what was best to do about them. We concluded it was best to take them prisoners, feed and care for them until we could get information from higher authority. In the evening, we went quietly down and encircled their camp. We closed up quite well, so none should be able to escape if they tried to break away. A man by the name of James Allred [James Tillman Sanford Allred] who spoke the Indian language very well, and who had considerable experience among them, and knew their customs quite we,l showed them the necessity of complying with our wishes telling them they would be treated kindly, and would show their friendship by moving into town. No sooner had he explained this than *one Indian jumped across the river where I had my position and in the twinkle of an eye, the men opened fire and the bullets whistled around my ears. Just as the Indian fell, he discharged his gun. The bullet grazed my breast and cut the barrel square off the gun of the man by my side. Had the bullet come three inches nearer, it would have killed both of us. All the other Indians surrendered and we marched the men into the meeting house, and we placed them under guard. Later we went and moved the squaws and children and belonging[s] into a vacant cellar with guards watching them."
Clearly Oluf's account exonerates the Paiute of any wrong doing, the young man that was killed never had a chance and never fired the first shot as previously stated. (Please visit Oluf Christian Larsen's website. You will find the Circleville incident in #8 pp. 66-70)
Phillip B Gottfredson's Research
The captured Indians, 26 in all, showed a lot of unrest, then on the evening of the following day some of the Indians were able to cut themselves loose from their bindings and make a break. In the excitement the two Indians trying to free themselves were shot and killed by the guards. The remainder of the Indians were then taken from the meeting house to a nearby underground cellar and imprisoned there. The captured Indians knew they were going to be killed, they could feel it. The settlers had another meeting, and it was decided among them to kill the remaining captured Indian people. And so it was that one by one they were led out of the cellar, 24 in all. There were women, men, and children, and they were first struck from behind on the head to stun them, then their throats were cut.
A terrified mother of two young boys and one girl, between thirteen and seven or eight years of age, told her crying children to run for their lives. When the door was opened for the next victim the three made a break and forced their way past the guards and ran. In the dark of night the guards fired several shots at the three but were unable to hit them. One was shot in the side but the bullet barely grazed his rib, not enough to stop him. It is safe to say the mother never knew if her children had managed to escape. Her children would wait through the night in vein for the return of their parents.
The day after following the massacre, the now three orphaned children who had made their escape were found in a nearby cave (above). They were taken by James Allred to Marysvale, a nearby town. It was Allred's intention to sell or make a trade for the children. According to accounts, no one wanted the little girl. There, in Marysvale, the captured girl was taken by her heals and swung hitting her head against a wagons wheel until dead. It is unclear what happened to one of the remaining two boys, whether he also killed or managed to escape, but James Allred took the remaining boy on to Spring City.
When Brigham Young heard of the details of this heinous crime he was upset, but did nothing more than verbally chastise the murders. Later they were praised by Church members for having done their dirty deed well. The so called "saints" of Circleville did all they could to cover up the tragic event, saying that they acted in self defense when the Indians attacked the guards. But in time the event leaked to the news, but curiously not a single person was prosecuted.
No record of the names of the victims.
There remains yet another important question, where are the remains of the 26 victims buried? Gottfredson made a trip to Circleville and while he was there he was introduced to those who knew the story and had lived there all their lives. Phillip was shown where the victims are buried in Circleville. Phillip have since turned over all of his three years of research on this event to the Paiute Tribal Council along with full rights to the material. What Phillip have discovered about the Circleville massacre he feels is history that first belongs to the Paiute Tribe, and what they do with it is entirely up to them. For example, if they should desire to exhume the burial site or place a maker there to honor their ancestors, it is they who he felt should have my research for this reason.
The Circleville Massacre Memorial
April 24, 2016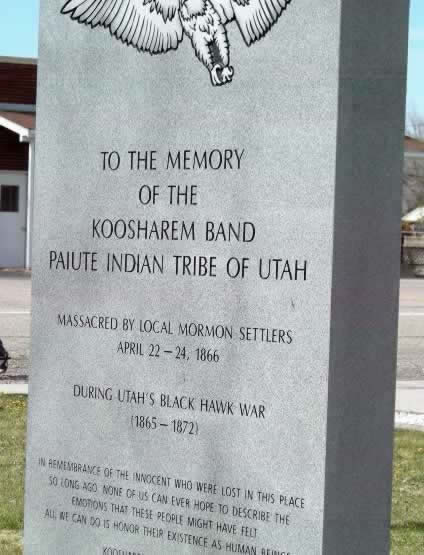 Circleville Massacre Memorial Dedication April 22, 2016, 11:00 a.m. Circleville Memorial Park, Circleville, UT CONDUCTING/MASTER OF CEREMONY
Michael Haaland, Mayor of Circleville
BLESSING AND REMARKS Arthur Richards, Cedar Band, Paiute Indian Tribe of Utah
STATEMENT ON HISTORY Jedediah Rogers, Senior State Historian, Utah Division of State History
REMARKS Richard E Turley Jr., Assistant Church Historian, LDS Church History Department REMARKS Dorena Martineau, Tribal Cultural Resource Officer, Paiute Indian Tribe of Utah REMARKS Toni Pikyavit, Koosharem Band, Paiute Indian Tribe of Utah
CLOSING Mayor Haaland
Report by Phillip B Gottfredson:
At this historic dedication of the Circleville Massacre Monument, historians and speakers gave a fair and accurate depiction of the tragic event of 1866 when 27 Paiute Koosharem men women and children were brutally murdered by members of the Mormon Church. Approximately 25 Koosharem Paiute were present at the dedication along with some 40 or so people comprised of historians from the church of Jesus Christ of Latter-Day Saints, Shirlee Silversmith Director of Indian Affairs, members of the Northern Ute Tribe, along with towns folk and the press. I was there along with Mary Meyer Chief Executive of the Timpanogos Nation, and a direct descendent of Chiefs Arapeen, Walkara, and Tabby. The ceremony lasted over an hour. And following the ceremony there was talk among the Paiute and historians of locating the burial place of the Massacre victims and a possible repatriation of their remains to bring closure to those whose ancestors were involved in the atrocity.
There appears to be a sincere and united effort between Native peoples of Utah and the Church to respectfully recognise this darkened part of Utah's history. Unlike other such attempts in the past, this time things had a much different tone of honesty and bold directness when addressing the details of the Massacre. None of the speakers sidestepped or sugar coated the story. And I want to commend Church Historian Richard E. Turely for his candid remarks. Mr. Turely openly admitted during his speech that one of his ancestors were among those who committed the atrocity, and that he deeply regretted that it happened. I think that took a lot of courage, and I have deep respect for Mr. Turley for his honesty and directness setting an example for others follow. I met Mr. Turley for the first time afterwards and thanked him for his tremendous contribution.
It was said a couple times by different speakers, and now reported the same in the media that "the Circleville Massacre was the largest and most brutal that occurred in the State of Utah." Interesting, because Utah didn't achieve statehood until 1896. And what about the Bear River Massacre of 1863 where some 500 Shoshone were slaughtered by Col. Conors? Church leader Brigham Young supplied troops and supplies to Conors to rid the area of Indians to benefit Mormons occupying Cach Valley at the time.
Mayor Michael Haaland of Circleville expressed his dedication and support of this project, consistent with the time I worked with him back in 2010 when I spent an entire day in Circleville investigating the Massacre. Mr. Haaland told me then he would support there being a memorial of this kind, and the possible locating and repatriation of the mortal remains of the victims.
My only disappointment is that there was no recognition of Norma Vance's contribution to the history of this event. Her decades of research, her book, or that she was a direct descendant of David Munsen, and furthermore all of David's descendants I believe deserve recognition of which there was none given. But, this project is not complete and I am confident there will be ample opportunity for recognition and much needed healing in time ahead. Speakers of the dedication did point out that there are many who deserve recognition beyond those who took part in this first phase of the project, and that there is no one individual, group or organization that deserves all the credit.
It was a great day to be there and witness this historic moment. The monument is beautifully done and inscribed on both sides. And I would say this was long overdue, it signals the beginning of more to come.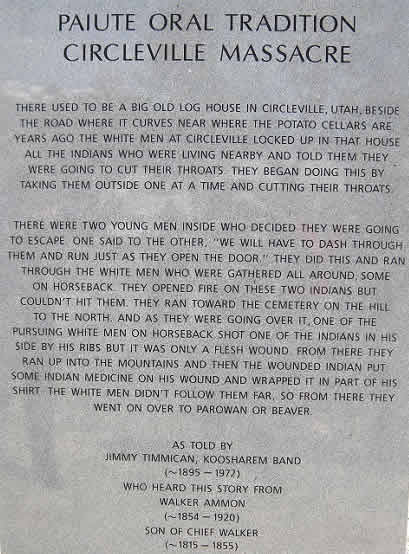 Inscription on revers side of Monument
Commentary by Phillip B Gottfredson 4/26/2016
A monument of this type, and the manner which it was presented at least acknowledges this tragic event happened which is good, and it in some way helps to console those who's ancestors took part in the massacre, but it must be understood that no monument excuses those who murdered 27 innocent men, women, and children. And having pity or expressing pity to the descendants of those victims in no way heals hearts, or reconciles the atrocity, much less makes them feel better. The monument and the intentions behind it is a small but important step toward reconciling the past, and serves to teach and remind us that mistakes our ancestors made must never be repeated. That greed, selfishness, and religious fanaticism can led to senseless savagery.
The Utah Black Hawk War spanned some 21 years, over 150 bloody confrontations resulting in the genocide of some 70,000 Native peoples living in Utah when Mormon pioneers arrived in 1847. Dr. Daniel McCool University of Utah put it succinctly when he said, "We took from them almost all their land—the reservations are just a tiny remnant of traditional tribal homelands. We tried to take from them their hunting rights, their fishing rights, the timber on their land. We tried to take from them their water rights. We tried to take from them their culture, their religion, their identity, and perhaps most importantly, we tried to take from them their freedom. And what is so amazing about this whole story is that we failed. We failed after hundreds of years of trying to take everything from American Indians. We failed to do that. They're still here and there's survival; that great saga of survival is one of the great stories of all mankind."
The United States Government, our government has never honored even one of some 360 ratified treaties made with Native American Indians. True Indian history has been ignored and left out of our school curriculum. So, this monument, long over due, honors the Native peoples of southern Utah and acknowledges the tragedy of 1866 in Circleville, but we have a long ways to go toward reconciliation for all the Native American Indians not just in Utah but across America.
See Video: The Circleville Massacre: April 21st-24th 1866 - Koosharem Paiute Band - Circleville, Utah
Also see: Secret Of The Bones